Get ready, because here comes a super long and girly post!

I have a small obsession with makeup and a vast collection to prove it. However, like many women, I only use a small portion of that collection regularly. I mean, as fun as it is to buy glitter eye shadow, I'm not reaching for it every morning as I get ready for class. I personally love when bloggers share their favorite makeup and beauty products, because it just feels so authentic. That's why I wanted to share with you 18 of my all time faves, or what I like to call the "greatest hits" from my makeup bag. You'll notice that they look a little worse for wear, but I prefer the term "well loved."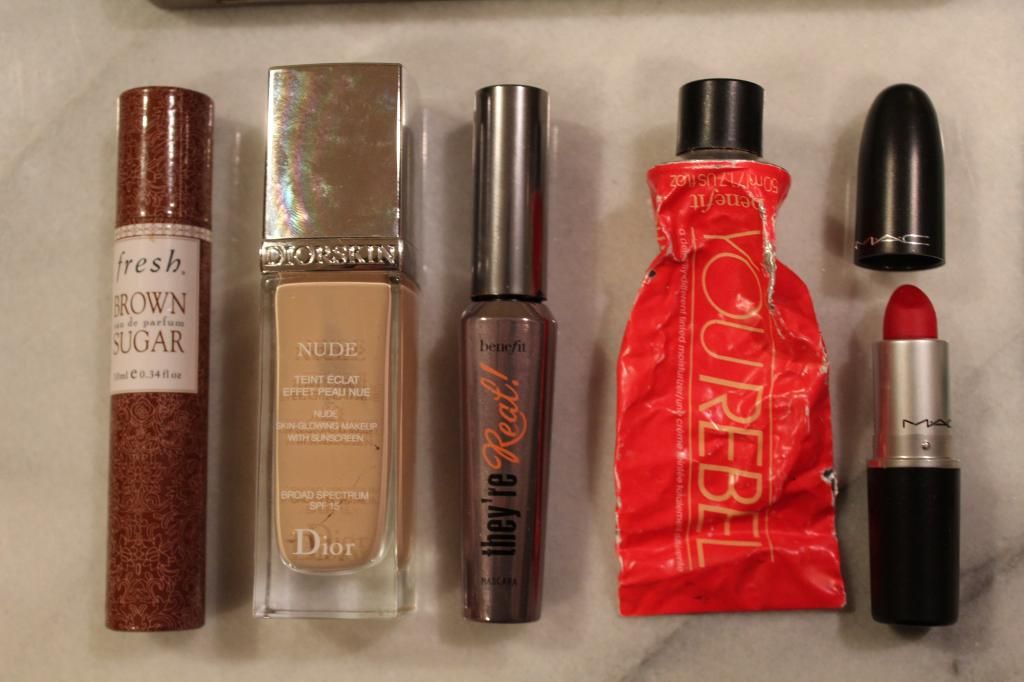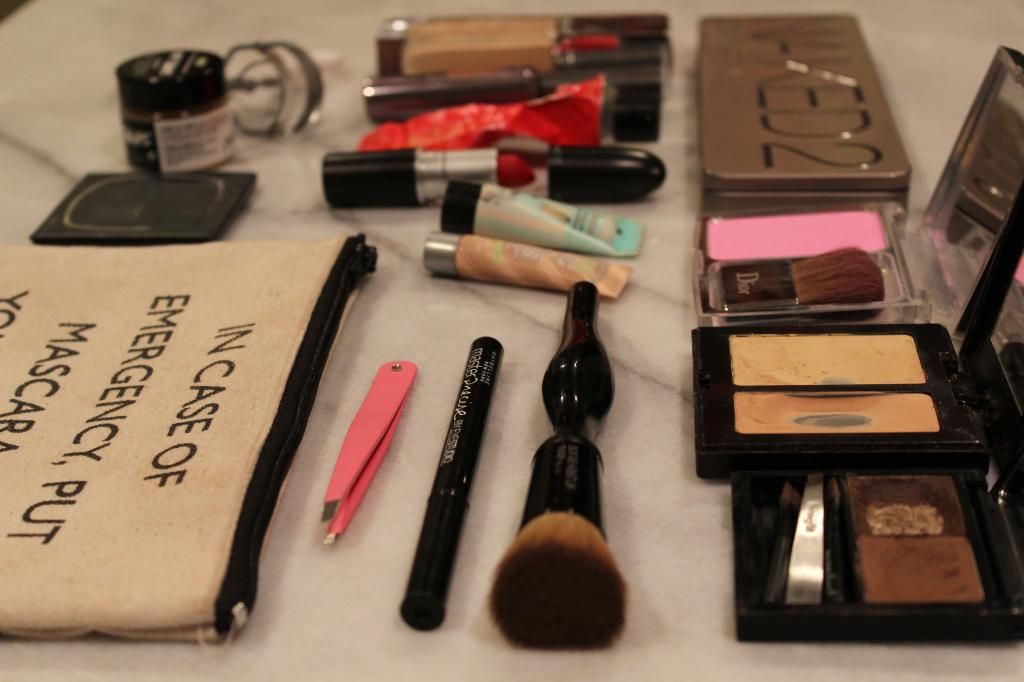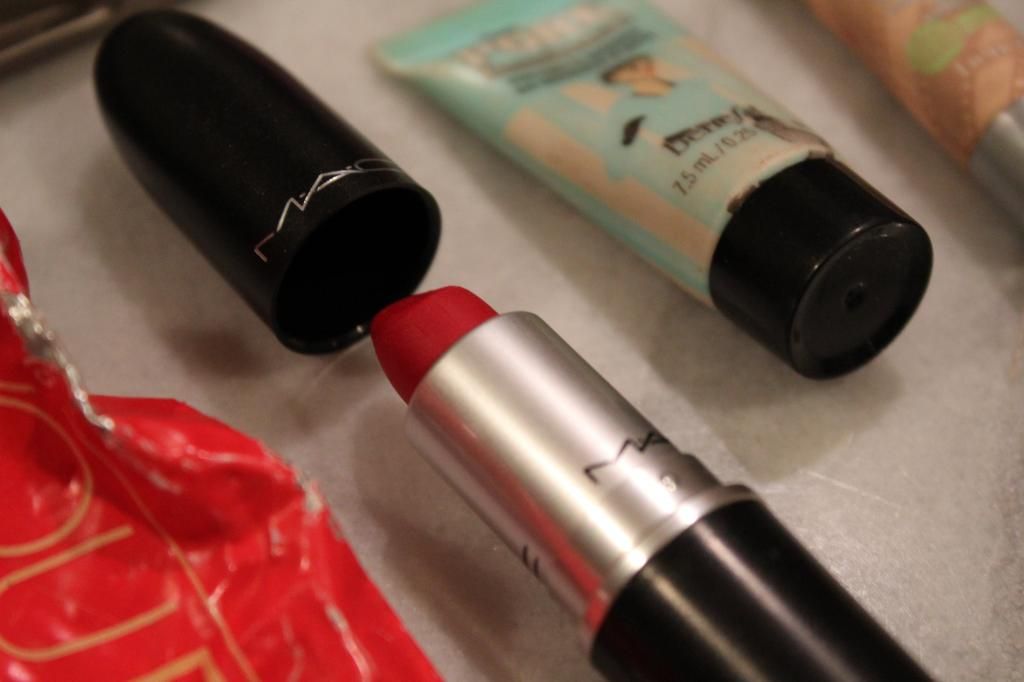 [NAKED2 Eyeshadow Palette by Urban Decay]
This is hands down the best eye shadow palette I've ever used. The colors are fantastic for creating everything from a neutral to a smokey eye. My favorite shades are
Half Baked
(before I ran out),
Chopper
,
Snakebite
,
Pistol,
Verve
and basically all of them.
Verve
is especially nice for the corners of my eyes, as well as lining my bottom lid.
Fun anecdote: This palette actually used to be my sister's, but she dropped it a few times and was going to throw it out before buying a new one. #diva. So, I rescued it from certain death, gave it a little TLC and never looked back. It has been one of the greatest decisions of my life thus far.
[Diorskin Rosy Glow by Dior] This blush is magic. No joke. Dior says "When applied, the initially fresh, light color develops into a rosy blush to suit each individual complexion." I'm sorry, what?! Like I said, magic. Question: Does anyone look bad wearing this blush? Answer: No.
As a bonus, this Dior Addict Lip Glow does the same thing for your lips. It seriously creates the perfect pink color and I'm obsessed. It would have been pictured above, had I not just finished my second tube.
[Secret Camouflage in SC-2 by Laura Mercier] I swear by this concealer. It will cover anything and can last for hours, especially if you put a little pressed powder over it. I carry it around with me always and no one will ever find out what I really look like.
[Brow Zings in Medium by Benefit] This brow shaping kit changed. my. life. Use it with an eyebrow brush, and it will make your eyebrows look so incredible. I can't believe there was a time when I didn't use this. The only downside is that the tweezers aren't great, but hey, nothing's perfect.... that is except your eyebrows after using this kit.
[Brown Sugar Eau De Parfum by Fresh] I'm not a huge perfume wearer, but Fresh is slowly changing that for me. So many of their perfumes smell amazing, but Brown Sugar is by far my favorite. It's sweet, natural and not at all overwhelming, which is perfect for me because I hate perfumes that are too strong. I bought the rollerball at Sephora, but it looks like they no longer have it. Not to worry though, you definitely won't regret the larger bottle.
[Diorskin Nude in 010-Ivory by Dior] I splurged on this foundation because I was in my cousin's wedding two summers ago, but it was so incredible that, when I ran out, I had to buy it again. It provides such great coverage without feeling heavy and looks so natural. Definitely worth the investment.
[They're Real! Mascara by Benefit] This mascara is unreal (pun intended). It thickens and lengthens lashes like you wouldn't believe. I use it every single day. The only downside is that it's tough to remove at night, but Neutrogena wipes work well, and it's a small price to pay for incredible lashes.
[You Rebel SPF 15 Tinted Moisturizer by Benefit] This tinted moisturizer looks well loved for a reason. However, Benefit recently discontinued it, which is downright crazy and the reason I'm savoring every last morsel. Though, with so many people clamoring for its return, I see hope for the future. I apply a little everyday in conjunction with my foundation, and it provides a healthy and natural glow.
[Ruby Woo (Retro Matte) lipstick by MAC] I would happily wear this lipstick for the rest of my life. Before Ruby Woo came along, wearing red lipstick was an intimidating and dangerous endeavor. Now, I don't know what I would do without it. With a little lip balm to keep it creamy and even, it's my go to for every occasion. The hints of blue make it universally flattering and actually make your teeth look whiter! There is a reason that, at one time, it was the best selling lipstick of the year.
[The POREfessional by Benefit] You'll almost always find this little guy in my purse. It's so great for touch ups and the super silky texture is amazing. I mostly use it on my nose, under or over my foundation. It makes pores disappear instantly. This miniature one is definitely worth having in your bag of tricks.
[Big Easy Multi-Balancing Complexion Perfector by Benefit] This is another one I love for touch ups. I pull the travel sized one from my bag to refresh on the go. It's lighter than my foundation which is why I'm seriously considering purchasing the big bottle for days when I don't feel like I need full coverage.
[Synthetic Flat Top Multipurpose Brush NO. 04 by Sonia Kashuk] I use very few brushes during my daily makeup routine, but this soft flat top brush makes the cut for a reason. It's perfect for applying and blending loose powder and bronzer.
[Eyestudio Master Precise Ink Pen Eyeliner by Maybelline] I live in constant fear that Maybelline will discontinue this eyeliner. It's just sold in drugstores, but it might as well be a mythological creature, it's so difficult to find. I don't know if it's missing from shelves because it's so popular or because it's not popular at all, hence the fear mentioned earlier. All I know is that when I do find it, I stock up! I buy 2 or sometimes 3 tubes because "incredible" is an understatement when talking about this eyeliner. I have never had another liquid liner come remotely close. Once you get the hang of it, it's so easy to use and you'll be able to create perfect wings. Try it, but don't tell too many people because I have a hard enough time getting my hands on it as it is.
[Pink Perfection Slant Tweezer by Tweezerman] Tweezers are just a necessary beauty tool and hands down, Tweezerman makes the best. Mine were a special edition from Sephora and I've had them for such a long time that the name wore off. They work so well that they make using any other kind of tweezers a ridiculous and frustrating experience that I wouldn't wish on my worst enemy. I'm sure that's why they win an Allure best of beauty award every single year.
[Sexy Curls by Sally Hansen] In my opinion, an eye lash curler is essential in any beauty arsenal. Curling your eyelashes instantly draws more attention to the eyes and helps you look more awake (which I especially need for 8:30 classes). The one I use now is by Sally Hansen, but I've used so many brands in the past. Revlon, especially, makes some nice ones.
[Mint Julips Lip Scrub by LUSH] My sister recently introduced me to this new gem and it is destined to become an all time favorite of mine. I've wanted a lip scrub for a while but I always thought that a little granulated sugar with vaseline works well, so "why rock the boat?" 3 words: Edible lip scrub. That is why you rock the boat. This stuff leaves my lips feeling so soft and smooth, and you can literally just lick off the excess in all of its sugary glory. I'm partial to mint, but flavors also include bubblegum and popcorn, which is oddly delicious.
[READY Bronzer in The Skinny Dip by bareMinerals] This little bronzer came in a set I purchased with Sephora points and it was the shining star of the group. Just a quick sweep around my face leaves a nice natural glow.
[Mascara Pouch by Pamela Barsky Shop] Of course with all of this makeup, you need somewhere to stash it. Pamela Barsky designs these cool makeup bags with hilarious and witty sayings. I'm particularly obsessed with the one I have, but you can find so many more on her Etsy shop. You can also check her out on Instagram here.
If you've made it this far, I commend you, and I'm assuming it's because you share my deep love for makeup. So, I'll leave you with the wise words of Bobbi Brown, "Confidence is everything, but a little makeup can't hurt."