Last week marked the start of my final semester in college. To celebrate our return to the apartment and the fact that my parents allowed me to bring the family waffle iron to school, I asked my roommates if they wanted to have a casual breakfast together one day during our first week. Well, it didn't take long for me to turn "casual breakfast" into "formal back to school brunch." We invited some more friends and chose an official date.
I knew waffles would be on the menu, for sure. At home, on special occasions, my dad makes these incredible
buttermilk waffles
, and it would have honestly been a crime to use another recipe. In terms of table aesthetics: I thought about that for days (I wish I were kidding).
I would say that it's unbelievable how excited I got about planning this event, but that would be a lie. Making a huge deal out of small things is pretty much my calling card. Although, I think everyone else got pretty excited, as well. They brought drinks and fruit, and my roommate, Alana, even made us spanish coffee! I'm incredibly proud of how beautifully it all came together.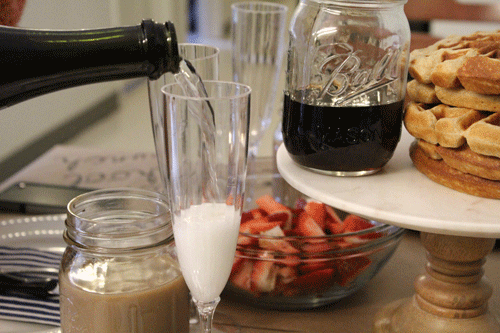 Alana shares my love for mason jars and it was her idea to use them for the coffee. She was also kind enough to lend me another for the syrup.
I wanted to wrap the table in brown packing paper to allow for writing. As you can tell, I'm super into details (something I definitely get from my mom).
What's a waffle without a little powdered sugar?
When all was said and done, I think this brunch was a nice reminder that it can be wonderful to celebrate life's small milestones. We could have easily let the start of our last semester pass by without any kind of acknowledgment, but where's the fun in that?
So, cheers to friends, cheers to the new semester, and cheers to celebrating the little things.